Grass Fed Beef is Good. Organic Beef is Better.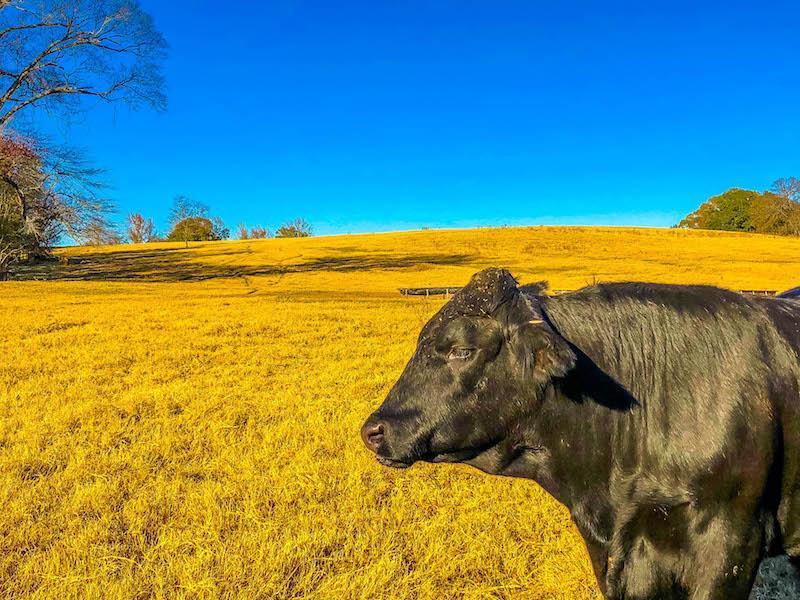 Grass Fed is Good. Organic is Better.
When searching to buy beef online, industry terms, different options, drastic pricing differences, origin of beef and many other confusing concepts can get overwhelming. Maybe overwhelming is not a strong enough concept to capture the confusion of all of the popular terms and marketing descriptions looking to appeal to your appetite of high quality beef online.
Beef, itself, is simple. As you know, it comes from cows. More specifically, high quality beef you consume, should come from a steer, specifically bread to create the most amazing, fresh tasting, mouth-watering, juicy, tender experience that will make you the star of your next cook out!
Let's spend some time together comparing Grass Fed and Organic Beef to see if we can share some useful information that will help you make a decision to buy beef online. Before you make any decisions, the first consideration is, and should be the beef.
Secret – IT IS ALL ABOUT THE BEEF! Think about it. If you want to go to the racing track and drive like a NASCAR pro, you won't bring the Mini Van. The van just won't get you to the speed you want to go. Beef is the same way. Even the top tier best Chefs will tell you the key, start with the best ingredients. Quality is at the top of the list, but back to reality, we are not all Chefs preparing dishes for others to spend money to enjoy our culinary creations. So value has to factor in at some point.
The Triangle
When comparing types of Beef, a great way to measure the value is through the triangle. We will use the triangle to capture the contrasts between Grass Fed and Organic Beef. The triangle pictured below will help to provide a visual tool to untangle the confusion when buying beef online, in the marketplace today:
Health – Health of the steer and health of the consumer are two important aspects of this function when considering buying beef online. Healthy beef should provide good nutrition and health to your body and does not introduce any unhealthy ingredients such as preservatives, antibiotics, hormones, or anything that may unnaturally grow the steer or negatively affect the consumer.
From the animal perspective, the health and environment of the steer is directly related to the end result and health of the product being consumed. Cattle existing in an unnatural environment and being exposed to altering medications or drugs can have a lasting effect on the steers quality.
Quality – Interestingly, the USDA still uses grades based on fat quantity (more saturated fat is better) when considering steaks and other various cuts of beef. Ironically, low grade ground beef is considered inferior or low quality when the fat content is higher. This direct contradiction of course adds to the overall confusion as to what is high quality and what is low quality.
For a working definition from a quality stand point, the true measure is the balance of actual muscle fiber without sacrificing smell, flavor, texture, juiciness, and acceptable tenderness. High quality beef should be tender and tasty but not so fat that it has the consistency of jello or jiggly consistency, often confused for "tenderness." Actually what you are consuming is a fatty cut of beef.
Cost – You will find that when you buy beef online, there is a big variation from source and by type of beef purchased. Cost is and should be a consideration. Overpaying does not necessarily bring you better steak. For example, there is a point where paying $300 an ounce does not provide enough additional quality to warrant such an elaborate purpose. Conversely, there is most likely a reason (quality, etc,) when you find rock bottom prices.
Value – Notice how value is in the middle of the triangle when you are considering buying beef online. Value is the best gage to consideration of all three factors but provides a measure to be sure you are getting the highest quality and at the best cost. Something may have to give, so use value as your guide when selecting the best vendor when deciding where to buy beef online
The objective is to maximize all three categories, therefore maximizing your value. By maximizing all three categories you will have full confidence that when you buy beef online, you are getting the best quality at the best value.
Mainstream Beef
Before we dig into Grass Fed versus Organic Beef, let's step back and glance at the beef world. In the beef market today, the "mainstream" or common source of beef you might purchase in a grocery store, many meat counters, or standard restaurants, would typically come from a CAFO (Contained Animal Feeding Operation) or feedlot.
By design, the feedlot is a method of grouping steers or cows together in tight spaces in huge volumes and minimizing movement, while maximizing starch intake. This creates a rapid growth by increasing the fat fibers woven in between and outside the muscle fibers (nutrition and benefit to the consumer). That is where the term "fatten them up" comes from.
In this unnatural process, the objective is to stretch the size or weight of the animal and to shorten the grow time in the most cost-effective manner. This method is effective in mass producing beef and attempting to bring down costs to consumers.
By using the triangle you will notice the overall grades below for feedlot cattle; Taste is of course a preference. Since feedlots have become the norm, we have gotten use to fatty beef as the standard. So, from a taste standpoint, fatty beef is often seen as more desirable.
Caution, more fat is not always better. Many have shifted to preferring more muscle fiber and less fat when enjoying that culinary creation. In fact, once you have tried a high quality, leaner cut, it is tough to go back to a fattier brand of beef. Quality as seen through this working definition is the biggest challenge for feedlot cattle.
It is not possible to mass produce beef in tight spaces, maximize cattle size, while achieving quality. From a cost perspective, feed lot cattle shine. Because of the efficiencies put in place, this process makes beef more affordable for more people.
Finally, from a value perspective, even though there are high marks for the affordability, it is tough to overlook the overall value that comes with the lower sticker prices.
Beef Choices
According to Forbes Magazine, over the past decade Grass Fed or more natural beef demand has increased at an annual rate of 25-30%.
Consumers love options in the products they purchase. This concept holds true with beef buyers online. Because Grass Fed beef is at the complete opposite end of growth spectrum as beef being raised in a CAFO it was the first concept to gather the most attention (not a new practice).
However, very soon after Grass Fed beef received so much attention in the media, Organic Beef (another variation is All-Natural) also began to quickly catch the consumer's eye. This is because of drawbacks to Grass Fed while Organic is still a similar but slightly improved approach.
Grass Fed Beef
I am sure you have noticed the term "grass fed" has created a huge buzz in the consumer world. There is much to be said about the health benefits of cattle being raised on a diet of all grass. However, the diet of the cattle is important, but just as important is the environment in which the cattle were raised.
Being raised on an actual ranch, on the grass, in low stress environments, where cattle roam free under shade trees, bathe in picturesque ponds, drink from natural slow flowing streams and consume natures bountiful salad bar, is a very appealing scenario. This is not just artistic poetry, the environment during the growth cycle directly relates to the health and quality of the animal, that will eventually end up on your table.
These considerations have a direct effect on consumer health benefits and quality of the beef. When cattle are raised on the grass, as they were meant to be raised, the primary benefit is the lack of need for antibiotics, steroids, or other assistance related practices.
In effect, the cattle will move naturally, consume grass naturally, and grow in muscle fiber in a natural way. For these reasons, Grass Fed beef receives high marks for the health of both the animal and the consumer.
Caution: the misconception is that the grass diet only, is the "silver bullet." The reality is that access to grass and open spaces is the key. Not just that they consumed grass only.
Generally, when considering quality, the lean aspects of the beef of Grass Fed cattle will be adequate. However, the other side of the equation relating experience and taste tends to get much lower grades.
Strictly Grass Fed beef will at times taste "gamy," stale, or even chewy. The texture can at times be stringy or tough and lack a juiciness. Thus, distracting from the overall experience. From a cost perspective, there is no way to state it softly. Grass Fed beef is known to be much more expensive.
There is a reason, from a time perspective, the life cycle is longer and the finish size is much smaller. The land requirements are much greater, as well as the labor required to grow cattle on grass only.
This directly affects your pocket book and palette. More time means more cost and smaller finishing sizes mean less yield to the producer and packer. This requires them to pass costs along to the consumer. Putting these two aspects of quality together creates a "mixed thumbs" grade, where the cleanliness of the beef is good but the experience is inconsistent and often less desirable.
This leaves the value to consider. When considering the health components alone, Grass Fed is good. However when considering the mixed review of the quality and the high cost, it depletes the overall value, brining the value consideration down.
Organic Beef
Organic Beef is very similar to the Grass Fed option. Both are raised on the grass, roaming and building healthy muscle fiber and both do not include antibiotics or hormones during the life cycle of the steer.
However, the major difference is the diet. Organic Beef (all-natural) processes are designed to pick up where Grass Fed falls short. Organically grown beef provides the cattle with unlimited access to natural grass, but does not require grass only.
Instead, the feeding process is supplemented with a small amount of all-natural healthy grains. By supplementing with all-natural grains, while the cattle are raised on ranch pastures with open spaces, the cattle are yielded at a slightly faster rate, still lean but slightly more marbling to increase yield sizes (not as fast as feedlot cattle) and greatly improve the taste consistency to create a more pleasurable experience.
In fact, a well raised Organic steak will often beat the taste of feedlot cattle with less saturated fat and more actual muscle fiber in each bite. All while not sacrificing the health gains provided by grass fed beef.
So, from both the health and quality perspective Organic Beef gets high marks. From a cost perspective Organic beef often falls somewhere in between feedlot cattle and grass fed. Organic cattle yield more weight at the end of the life cycle and are typically less expensive to raise.
However, Organic Cattle are more expensive to raise and take more time than feedlot cattle. Additionally, Organic cattle require more space to achieve the overall objective. Keep in mind, that in many cases the price points of Organic often rival the upper grades of feedlot cattle, but will be less expensive than Grass Fed cattle.
Therefore, from a cost perspective the Organic Beef is not the "cheapest" but generally it is cost affordable to a family, so it receives good marks in the cost category.
When preparing for your backyard extravaganza, remember the most important thing, IT IS ALL ABOUT THE BEEF!
When you buy beef online, start with good ingredients and finish with a great dish, that will leave smiles all day long.
A final tip, when buying beef online. Do your homework. Contact the vendor through their website. Find out the source on where their beef originates. Do they grow it, do they resell products from other companies as an aggregator, or maybe it is sourced from mainstream beef, so you are not really getting anything different than your local store?
Marketing can be tricky, so take the time to understand the source and the quality you will be receiving. But, don't forget the importance factor here. You want the best beef at the best value. Enjoy!
Hale, D.S., Goodson, K., & Savell, J.W. (March 8, 2013). "USDA Beef Quality and Yield Grades." Department of Animal Science Texas A&M University Texas A&M AgriLife Extension Service. College Station, TX 77843.
Banker, S. (2016, January 29). The Grass-Fed Beef Supply Chain. www.forbes.com  
Leave a comment
Comments will be approved before showing up.