9-Steps to Perfect Beefy Tomato Soup Recipe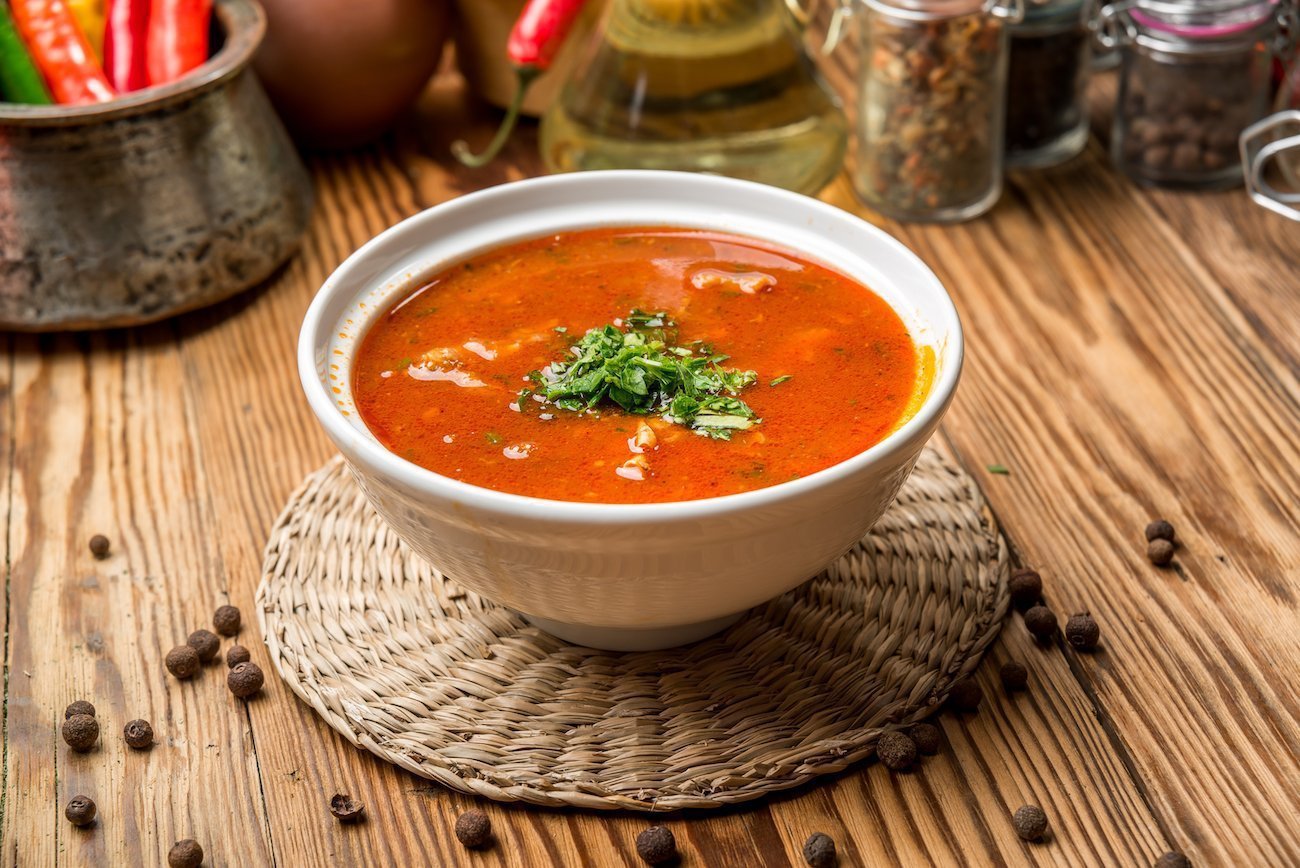 Beefy Tomato Soup
Dinner is always just around the corner, so back to the kitchen we go! I don't know about you, but I find myself trying to avoid going to the grocery store, AGAIN! I go to the fridge, assess. Next is the pantry. What going on in there? If you're like me, you tend to have a few items on hand at all times, like pasta sauce, noodles of some sort, onion and we all have that little spice rack somewhere. Let's say you've got a pound of all-natural ground beef in your freezer. Now what? I'm looking for a simple recipe the whole family will love. So, when in doubt, I turn to my friend, Beefy Tomato Soup! 
Soup is a year round meal in our house. Wait, did I just say soup? Yes! We eat it all year long for a few different reasons. It can be frugal, typically easy to make, is good for bulk cooking and can offer so much variety. Saving money and simplicity is always a bonus, and if I can make a couple of meals out of the deal, even better! Of course, you'll be making different soups according to the season. However, hot or cold, rain or shine, this recipe will leave your family more than satisfied.
Classic tomato soup is a family favorite, but I like to enjoy some sort of meat in my soup. Adding the ground beef provides protein and a little bit of healthy fats. Along with adding in the pasta, it creates more balance and turns into a full meal in a bowl with an excellent taste. If you ask me, two words that should always be a part of a recipe, simple and filling. They both can be found here!
With this hearty soup, I love that you can have it ready and waiting for you at dinner time. Either way, anytime I can have dinner cooked and ready in under 45 minutes, thats the real attraction. AND its all cooked in one pot, clean up will be a breeze! All of these factors really make my ears perk up. 
This soup by itself is more than enough, however, you may want to pair your dish with a side. Maybe add a grilled cheese, bread or crackers to the mix. Whatever makes your taste buds happy!
Not to mention this recipe is super budget friendly and who doesn't like leftovers? Sounds good to me, but lets rewind and break this down real quick. You're telling me its fast, easy, cheap and delicious? YES PLEASE!
Lets thaw out your all-natural ground beef and put a spin on this classic soup! 
Ingredients  
¾ lb. ground beef

2 tablespoons olive oil

1 onion, chopped

3 cloves of garlic, minced

2 teaspoons salt

¼ teaspoon ground black pepper

1 teaspoon oregano

1 (23 oz jar) traditional pasta sauce

4 cups of chicken stock

½ cup of cream cheese, at room temperature

1½ cups elbow macaroni or short-tubed pasta

¼ cup fresh chopped basil
Have everything you need? Lets get started!
Instructions
Start by heating the olive oil in a large pot over medium heat.

Add the onions and garlic to the pot and cook for about 5 minutes, stirring until the onion is soft.

Add the ground beef to onion mix and begin breaking up with a spoon and cook until the meat is no longer pink.

Next you can add in the salt, pepper and oregano to the beef and continue to stir to combine the seasonings.

Now you can pour in the chicken stock and pasta sauce. Makes sure you are scraping all the way to the bottom of the pot as you stir.

(Note: Your favorite spaghetti sauce can be substituted, or even a can of crushed tomatoes with a little seasoning works great.)

Bring your soup to a simmer and cook for about 10 minutes.

Whisk in the cream cheese to make it nice and thick. Also add 1/2 of your fresh basil.

(Note: Fresh basil adds amazing flavor to the soup, but don't worry if you don't have it. Dried basil will do just fine.)

Pour in your pasta and put the lid on. Let it cook for another 10 minutes or until pasta is tender and dinner is served.

Serve into bowls and garnish with the remaining basil.
We hope you enjoy this recipe as much as we do! If you'd like to see something different, don't be afraid to put your own spin on things. Thats the beauty of being the chef, it's your kitchen!
There is always room to tweak things here and there. Whether its adding your favorite seasonings or even making cooking a family affair. However you can make your meals more enjoyable, go for it!
Leave a comment
Comments will be approved before showing up.