Amazing Shepherd's Pie Recipe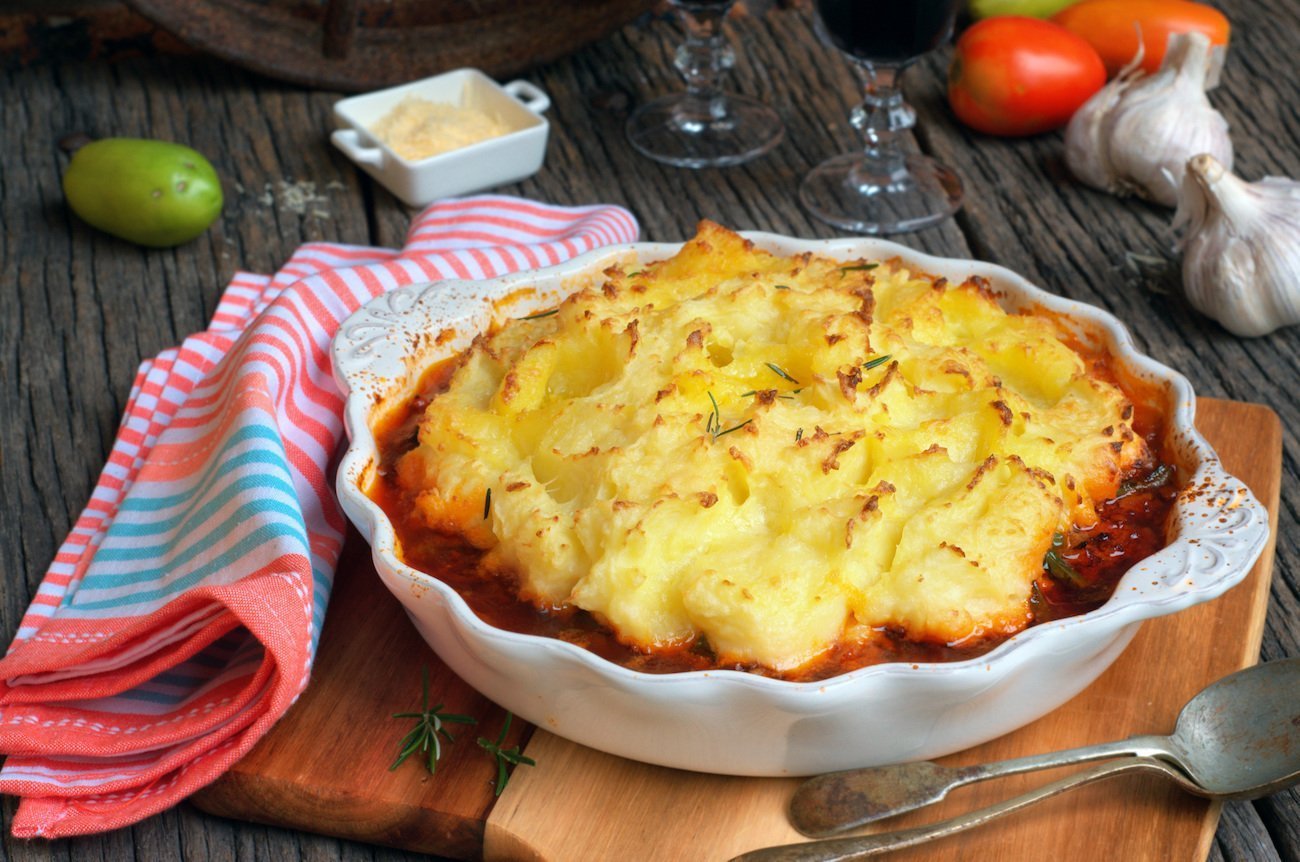 Shepherd's Pie
(A.K.A. Cottage Pie)
Now that Fall is approaching, it's time to start thinking about comfort foods for those cool Autumn nights. Something traditional that the whole family will love! With this longing for comfort we thought, what could be better than famous Shepherd's Pie, also known as Cottage Pie.
Whatever your name preference may be, did you know there is a difference? It all boils down to what kind of meat you use. Cottage Pie is the proper name when using beef, but in the South, we've always used beef and always just called it Shepherd's Pie. The name Shepherd's Pie was traditionally applied when using lamb. Although Cottage Pie predates Shepherd's Pie, both terms have been used synonymously with each other for a very long time.
So, how did they come up with "Cottage" or "Shepherd's" Pie? Well, "Cottage Pie" was invented around the time potatoes were introduced to the UK. Potatoes were known to be affordable to peasants, many of which lived in cottages. Now, can you guess how "Shepherd's Pie" got it's name? Let me help, shepherds as we all know would herd animals. One of those animals happened to be lamb. Like it was mentioned above, Shepherd's Pie included the lamb meat. So, call it whatever you'd like, but making this is worth every bite!
Now that we've had our little history lesson, you're probably wondering how to make this classic comfort dish There are tons of variations when it comes to this meal, but we like this recipe the best! This version is made with flavorful all-natural ground beef and don't forget the cheesy potato topping, it's irresistible! 
Don't let this list of ingredients intimidate you, it all comes together in no time! You'll like the convenience of this recipe for Shepherd's Pie. It calls for frozen vegetables unlike some recipes, but just as tasty! It's sure to be a crowd pleaser.
Ingredients Cook Time: 35 minutes
Serves: 8
POTATO LAYER
3 large russet potatoes
2 Tablespoons butter
1/2 cup milk
1 teaspoon garlic powder
MEAT LAYER
2 pounds all-natural ground beef
1 small onion, chopped
2 cloves garlic, minced
1/2 teaspoon each, salt and pepper
2 Tablespoons flour
2 Tablespoons tomato paste
1 cup beef broth
1/2 Tablespoon Worcestershire sauce
1/2 teaspoon dried oregano
1 1/2 cups frozen peas and carrots
1/2 cup frozen corn
1 cup shredded cheddar cheese
Instructions:
1. FOR POTATO LAYER: Peel potatoes and chop into small pieces. Place chopped potatoes in a large pot of water. Bring to a boil and cook until potatoes are tender. (About 20 minutes)
2. Drain water from pot. Mash the potatoes. Add butter, milk and garlic powder. Continue to mash until no lumps remain. Cover potatoes and set aside.
3. Preheat oven to 375°. Grease a 9x13 inch baking dish with non-stick spray.
4. FOR MEAT LAYER: In a large skillet, over medium-high heat, add ground beef, onion, garlic, salt and pepper. Cook and crumble meat until browned. Drain the grease.
5. Sprinkle flour evenly over meat mixture. Stir and cook 1 minute. Stir in tomato paste, broth, Worcestershire sauce and oregano. Bring to a boil, then reduce heat to medium-low. Stir in frozen peas, carrots and corn. Cook another 10 minutes or until heated through.
6. Pour meat mixture into prepared pan. Spread mashed potatoes evenly over the top. Top the potatoes with cheddar cheese.
7. Bake, uncovered, for 35 minutes or until casserole is hot and bubbly. Remove from oven and let it sit for about 10 minutes before serving.
This classic Shepherd's Pie (A.K.A. Cottage Pie) will surely have your family asking for seconds! From the meat mixture to the mashed potatoes, everything about this is just perfect. If your family is anything like mine, say the word cheese and you've found your way to their hearts! So, get out your kitchen utensils and throw on your apron, you don't know what you're missing. Its truly delicious!
Leave a comment
Comments will be approved before showing up.