Best Beef Enchilada Recipe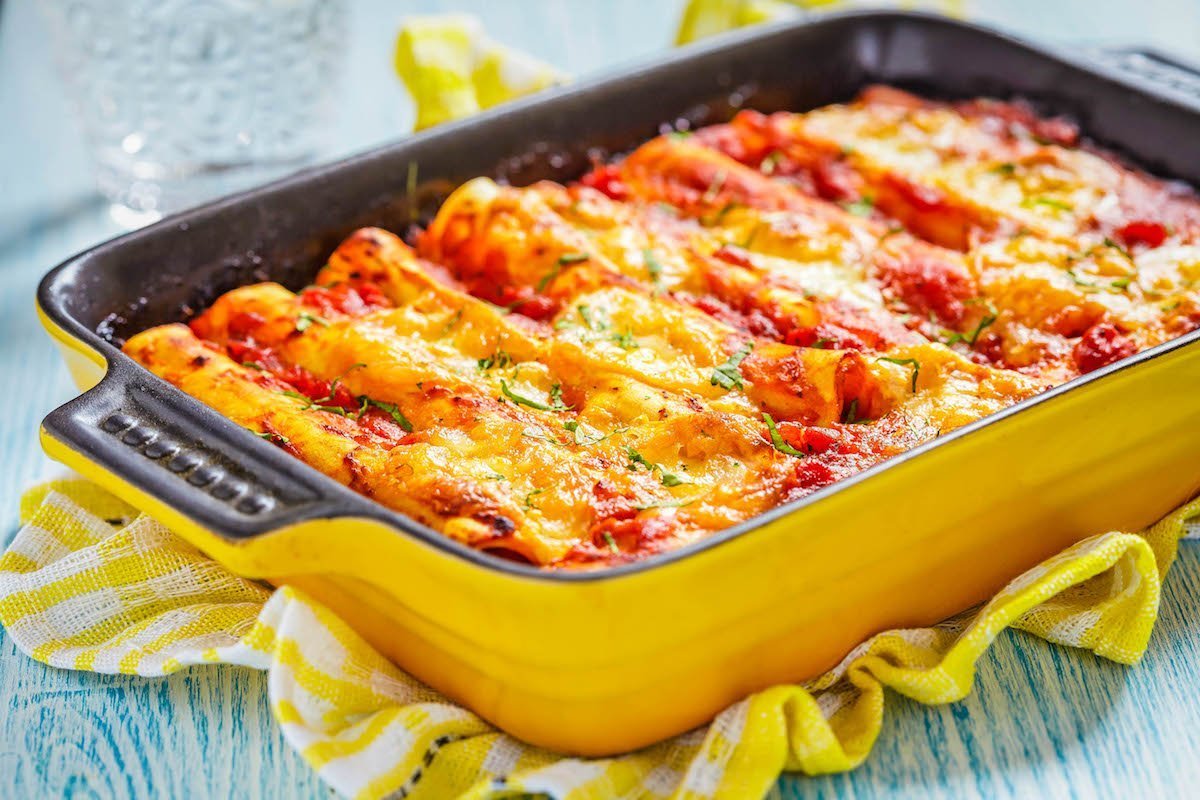 Tonight we're cooking Tex-Mex! My family and I absolutely love it. We cook it at home, we go out to eat it, we talk about it, and sometimes even dream about it! (Ha don't judge) We could seriously eat the stuff all the time. What can I say, the heart wants what the heart wants.
Tacos, burritos, quesadillas, fajitas, its all so good! Don't even get me started on queso! So, tonight I'm going to make one of my all time favorite Tex-Mex dishes…Beef Enchiladas!!!
Enchiladas and I go way back. When I was a child I loved cheese enchiladas. I never had to look at the menu, I ordered them every single time we went out to eat Mexican food. My love for enchiladas grew deeper when one night out they got my order wrong. They simply gave me beef enchiladas instead of my usual cheese enchiladas.
I was a pretty picky eater back then and I was super hesitant to try new things. After a little encouragement from my parents, I decided to try them. Like always, my parents were right! From that day forward my new "usual" became beef enchiladas. I couldn't believe what I'd been missing out on!
I was forever grateful, thinking could it get any better? Later down the road I found the answer was YES! It's beyond better when you make them yourself, so give this recipe a whirl!
There are a ton of different recipes for beef enchiladas, but this one has been my favorite for a while. Its extra special with this fantastic recipe for homemade enchilada sauce! The enchiladas are already flavorful by themselves, then paired with this sassy sauce,  and smothered with cheese (another long time love) -mmmm…too good not to share!
So, if you love Tex-Mex food like we do, you should add this recipe to your rotation list ASAP! You won't regret it! It will make your mouth water and your family will likely polish off the whole pan tonight!
A la cocina vamos! (Off to the kitchen we go!)
INGREDIENTS FOR ENCHILADA FILLING
2 Tbsp vegetable oil

1 yellow onion diced

2 cloves garlic minced

1.5 lbs all natural ground beef

salt and pepper

4 oz can diced green chiles

15 oz can black beans rinsed and drained

8-10 flour tortillas

3 cups Mexican-blend shredded cheese

1 batch homemade red enchilada sauce

chopped fresh cilantro and green onions for garnish
INGREDIENTS FOR HOMEMADE ENCHILADA SAUCE
2 Tbsp vegetable or canola oil

2 Tbsp flour

4 Tbsp chili powder

1/2 tsp garlic powder

1/2 tsp salt

1/4 tsp cumin

1/4 tsp oregano

1/8 tsp cayenne pepper

2 cups vegetable stock or chicken
 INSTRUCTIONS
(Prepare the sauce first)
1. Heat oil in a saucepan over medium high heat. Add flour and whisk together over the heat for one minute. Stir in the remaining seasonings (chili powder, garlic powder, salt, cumin, oregano, cayenne pepper). Then gradually add in the stock, whisking constantly to eliminate lumps. Reduce to low and simmer 10-15 minutes until thickened. Cover with lid and set aside.
2. Preheat oven to 350 degrees.
3. Add oil to a big skillet and heat over medium high heat. Add ground beef and crumble. Once ground beef is about halfway cooked, add onion, garlic, and green chiles and sauté for 3-6 minutes, stirring occasionally. Drain beef mixture.
4. To make the enchiladas, spread a couple of tablespoons of the enchilada sauce over the tortilla. Add beans in a line down the middle of the tortilla, then add in a spoonful of the beef mixture. Drizzle some extra enchilada sauce over the meat, then add one third of a cup of cheese. Roll up tortilla and place in a greased 9 x 13" baking pan. Continue with remaining tortillas.
5. Spread the remaining enchilada sauce over the top of the tortillas, and sprinkle with the remaining shredded cheese.
6. Bake uncovered for 20 minutes, broiling the last few minutes if you want the cheese to be a more golden brown. Garnish with chopped cilantro and green onions.
In addition, sometimes I like to serve an appetizer. Maybe some chips and queso, salsa or guacamole sounds good. I almost always go with the queso (our house favorite). Also, you can pair the enchiladas with a side of Spanish rice or cilantro lime rice, either would be great. Make whatever your stomach desires, the possibilities are endless! Just remember to save plenty of room for this tasty meal!
La comida esta lista y delicioso! (Food is ready and delicious!)
Leave a comment
Comments will be approved before showing up.