Amazing Ground Beef Stroganoff Recipe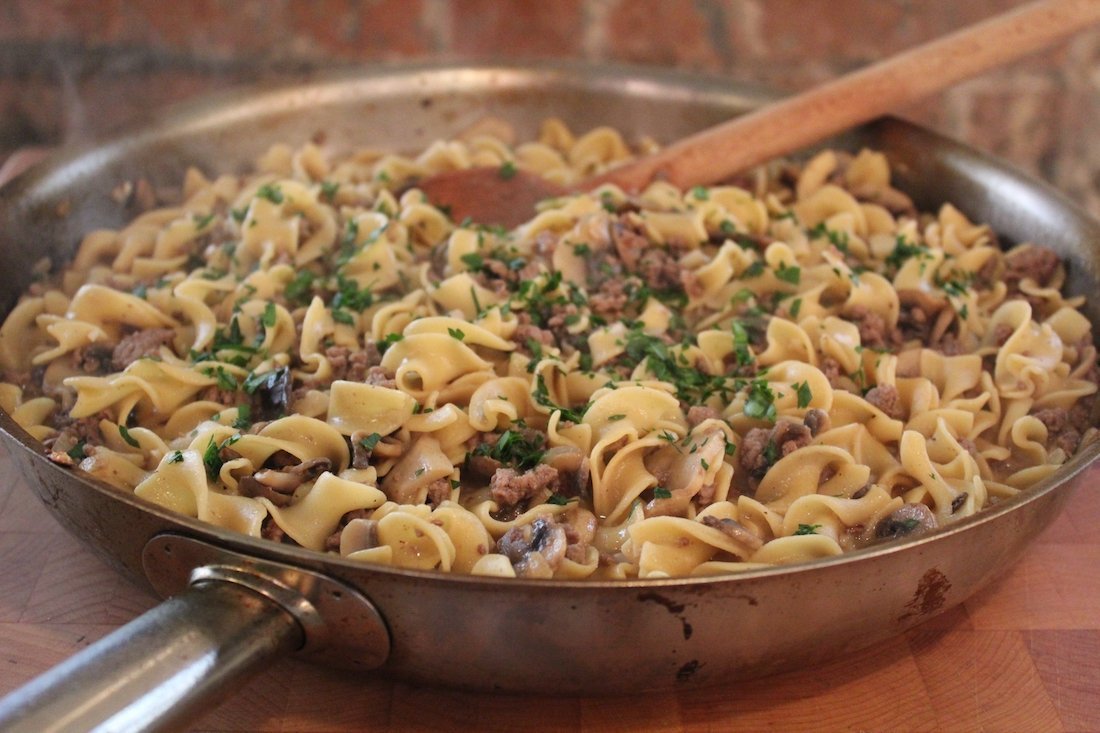 I recently had the pleasure of doing one of the things I love most, traveling! The scenery was breathtaking and to say the food was incredible is an understatement. While it was a long, but overall great journey, I'm glad to be home with my kitchen in sight. I traveled to the other side of this world, and even though the food there was inspiring, it was on the plane ride home where I found my inspiration for some delicious meals back home.
I think we can all agree that airplane food is not always the most appealing and the beef is not usually the best quality. While some meals they offer are better than others, one meal I was served was quite frightful. The food was beef stroganoff. I'd never eaten it on an airplane.
All of my memories of this meal were fine, I'm actually quite the fan of it. Maybe that's why I felt the need to shed light on the stuff, as I know the dish can be great. When they were announcing the food, my ears kind of perked up. I'm thinking, "Hey, that sounds good," when I should've known that it wouldn't be the same beef stroganoff that I was used to.
They gave me my tray and I removed the lid to reveal some sort of "mystery meat." Ha! I remember kind of moving it around with my fork, wondering if it was made for human consumption. Needless to say, I skipped the stroganoff and ate the mashed potatoes by themselves, but it really did sound good.
Now, I'm home and ready to satisfy my beef stroganoff craving! So, thats what's for dinner!
This amazing recipe for beef stroganoff will make your taste buds holler! So tasteful and doesn't require all that extra work. To sum it up, you combine all natural ground beef with simple ingredients in one skillet to create a real crowd pleaser!
Sounds simple enough, right? You'll love this trouble-free recipe, it comes together so quickly. Dinner will be ready in 30 minutes or less!
Something I firmly believe, is that life is too short to eat bad food. So, give this recipe a try, you'll be happy you did! 
INGREDIENTS
1 pound

all natural ground beef

1/2 pound sliced mushrooms

3 cloves garlic, minced

1 tablespoon chopped fresh thyme or 1 teaspoon dried thyme leaves

2 cups uncooked wide noodle-style pasta

1 can (14-1/2 ounces) beef broth

1 cup frozen peas

1/4 cup sour cream plus additional for topping

1 tablespoon Dijon-style mustard

Salt and pepper

 
INSTRUCTIONS 
1. Heat large nonstick skillet over medium heat until hot. Add Ground Beef, mushrooms, garlic and thyme; cook 8 to 10 minutes, breaking Ground Beef into 3/4-inch crumbles and stirring occasionally.
2. Stir noodles and broth into beef mixture. Bring to a boil. Cover and cook 9 to 10 minutes or until noodles are tender, stirring occasionally. Stir in peas; continue cooking, uncovered, 3 to 5 minutes or until peas are heated through, stirring occasionally.
3. Remove from heat; stir in 1/4 cup sour cream and mustard. Season with salt and pepper, as desired. Garnish with additional sour cream, if desired.
For the side, rice or mashed potatoes will go nicely. I hope you enjoy this as much as I do! Now, that I've had beef stroganoff done right, all is forgiven!
Happy Eating!
Leave a comment
Comments will be approved before showing up.