Best Parmesan Meatball Sliders Recipe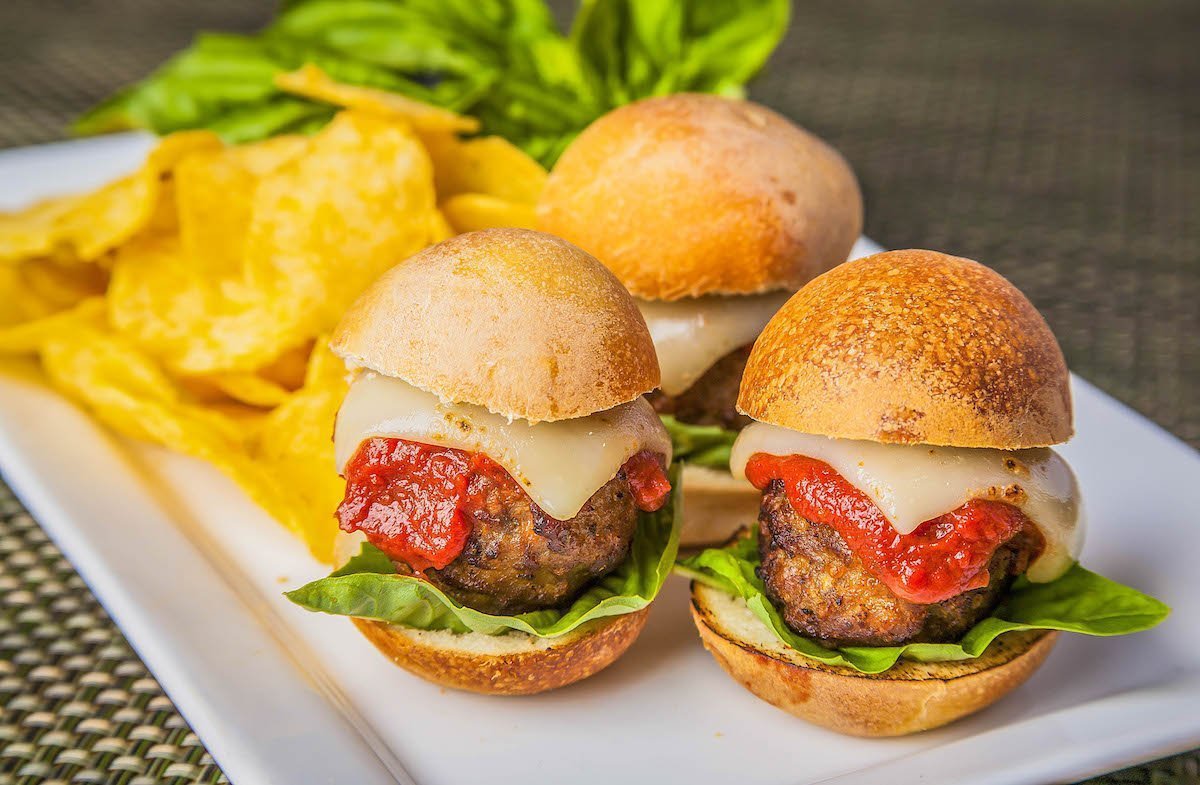 Sundays are arguably one of the best days of the week. Its most definitely a day to look forward to at my house. Sundays really have a way of unifying us. Anywhere from enjoying your "lazy" day at home to possibly the most popular reason of all, Sunday football. There's nothing more unifying than sports! (At least in our house!)
We're spending time together, eating good food, and amusingly enough, screaming crazily at the TV. It's a great time and most of you probably find yourselves with friends and family on this day, too. So, whether you are hosting, attending, or watching the game with your family at home, we promise this recipe for meatball sliders will MAKE your game day, win or lose!
We've put a spin on classic sliders and decided to take it to another level of yum!!
Parmesan meatball sliders…we've taken the classic meatball sub and made it into sliders! It's tasty and game day friendly, with just the right amount of dangerous! I've found myself making a higher count each time and there are never any leftovers! These are truly some of my favorite to serve, they're simple to make and finger-licking good! So, whatever your reason for unification may be, there's no reason to keep this incredible recipe from your group. They'll be asking for it, again!
Lets get this game day kicked off! Good luck!
INGRIDIENTS
Simple Tomato Sauce
2 tablespoons oil

1 1/2 teaspoons crushed red pepper

1 teaspoon toasted fennel seeds, crushed

1/2 yellow onion, finely chopped

2 cloves garlic, minced

1 carrot, finely shredded

28 ounce can crushed tomatoes

1/2 teaspoon salt
Meatballs
1/3 cup panko or breadcrumbs

1/3 cup finely grated parmesan

1/2 onion, finely diced

4 cloves garlic, minced

1 large egg

1/3 cup milk

1 teaspoon salt

1 teaspoon freshly ground pepper

2 tablespoons freshly finely chopped parsley
Sliders
8 slider buns

8 slices mozzarella cheese or 3/4 cups shredded mozzarella

flat leaf parsley, if desired
INSTRUCTIONS
1. Make the sauce: heat up the oil in a large skillet over medium heat. Add the crushed red pepper, fennel seeds, onion, garlic and carrot. Cook, stirring, until slightly softened, about 5 minutes. Stir in the crushed tomatoes and salt. Keep on a low simmer while you make your meatballs.
2. Make the meatballs: gently mix together all of the meatball ingredients together in a bowl. Shape into large meatballs or meatball patties and simmer in the sauce. Partially cover over medium heat, flipping occasionally. Simmer gently until cooked through, about 20-25 minutes.
3. Make the sliders: preheat the oven to 400°F. Arrange the buns, cut side up, on a lined baking sheet. Top the bottom buns with a bit of sauce, a meatball, and cheese. Bake until cheese is melted, about 3 minutes. Sandwich and enjoy hot!
Serve with your favorites sides and get your game face on, cause' you're about to get a whole lot of compliments! Enjoy!
Leave a comment
Comments will be approved before showing up.