The Best Taco Soup Recipe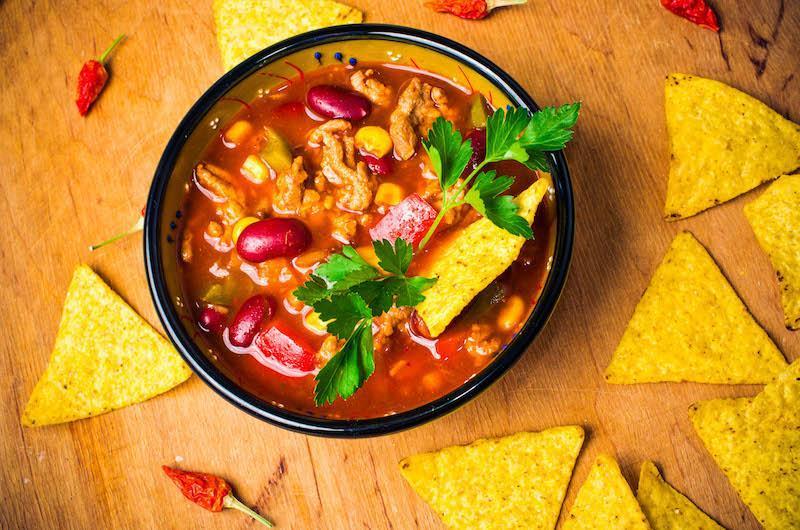 For as long as I can remember, this Taco Soup recipe has always been a family staple. Its warmth, getting us through the 20 degree winters, and its simplicity getting me through the "Can't Cook" college days. Providing comfort, reliability and unforgettable flavor since the good ole' days! What more could you ask for in a recipe? I've been eating this for years and trust me, it won't be long before you have this gem memorized.
It's no secret that we love soups, here at the ranch, and this one is my secret weapon! Whether you're cooking for two or ten, this will leave a significant impression on everyone who eats it. I guarantee they will be heading back for seconds! On tonight's menu - Taco Soup, cornbread and 100% satisfaction!
Taco Soup is one of those recipes that has a million variations. However, this is THE recipe you won't want to forget! We fell in love with this recipe long ago, not only because of the one-of-a-kind taste, but also because of how easy and affordable it is to make. You won't hear us complaining when we get to save time and money on dinner! Just brown some meat and open some cans, throw it all in the crock pot and you can call it a day!
Don't let this effortless recipe fool you, it tastes like so much more than you could imagine! Plus, you're gonna have left overs. We like it when the cooks of the kitchen catch a break now and then. You've earned it! This Taco Soup recipe is undoubtedly too delicious not to share. So, get your ingredients and let your crock pot take it from there. A true recipe that everyone will love!
Ingredients:
1 lb.

All-Natural Ground Beef,

browned and drained

1 can Beef Broth

1 can Kidney Beans, drained

1 can Black Beans, drained

1 can Petite Diced Tomatoes + liquid from can

1 can Corn + liquid from can

1 can Original Rotel – Diced Tomatoes & Green Chilies

1 finely chopped jalapeño

1 packet Hidden Valley Ranch Seasoning Mix

1 packet Taco Seasoning Mix

1.5 tsp. Onion Powder

½ tsp. Salt

1 tsp. Ground Black Pepper

For Garnish: Shredded Cheddar and Sour Cream
Instructions:
1. Brown the beef and drain the fat.
2. Add all of the ingredients (except garnishings) to crock pot and stir well.
3. Cook on HIGH for 2 hours or LOW for 4 hours.
4. Add garnish ingredients as desired.
NOTE: Best paired with a side of old fashioned cornbread.
ENJOY!
Leave a comment
Comments will be approved before showing up.